Managed broadband
There are very few businesses out there who can operate with no internet at all, even the most traditional of businesses rely on the internet for email or viewing and sharing information online. There are even fewer businesses out there who don't know the frustration of the internet going offline and spending hours on the phone being asked to reboot modems, and go to test sockets and all that fun stuff.
With managed broadband from Freethought you can be assured that we will install the fastest line possible to your property along with a high quality router and then most importantly we'll monitor the circuit 24/7/365 to make sure if there is a problem, we know about it before you do. With our managed broadband as soon as something on the line goes wrong, such as slow speed or loss of service, we'll immediately be notified and work to fix it, keeping you informed as we work on it.
Simple, fast, reliable
Broadband can be quite complicated, with lots of different packages, and tariffs, and speed or data limits. We keep it simple, one set fee and we'll install the best line we can using the Openreach network and our fixed line partners and that's it. No packages based on speed, no download and upload limits, just a broadband line as fast as we can get it, for one set fee. Fully managed, monitored, and affordable.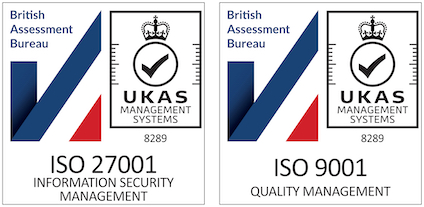 Freethought holds ISO 9001 and 27001 certification for quality management and information security.
Networking & Wi-Fi
Our managed networking and managed broadband are a match made in heaven, have Freethought manage your entire network and connectivity so there is no one to pass the blame to, Freethought will handle it all for you.
Find out more