Complete assurance
No matter the size of your organisation, from sole trader to multinational corporate, protecting your computers and data is imperative. Your systems and data are key to your business and if they are lost, damaged, or even stolen then it could cripple your business not to mention ruin your reputation.
Freethought have almost two decades of experience running secure computer networks and systems and will apply this experience to your business. We will conduct an audit of your processes and systems and identify how best to protect them against threats whilst ensuring security is not a hindrance to productivity.
Following discussions with you and an audit of your systems and existing processes will recommend and provide the most appropriate multi layered security solution that will provide 360 degree protection to your network, desktops, servers, and mobile devices. Plus we will monitor the solution constantly to ensure it's effectiveness and alert about attempted attacks against your business.
Peace of mind, no upfront cost.
When Freethought provide hardware solutions for your network or security solutions we will provide the hardware fully managed and monitored for one low set monthly fee per device. This monthly fee covers everything related to that hardware including warranty, should there be a fault we will replace the hardware right away at no cost to you. We utilise a range of hardware vendors such as Ubiquiti, Cisco, Juniper, and Fortinet to provide absolute reassureance and security.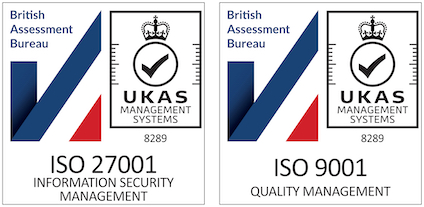 Freethought holds ISO 9001 and 27001 certification for quality management and information security.
Network & Wi-Fi
Gain complete peace of mind about your entire network infrastructure not just the security by having Freethought replace and manage your complete computer network for a low monthly cost, fully warranties, and managed by UK based experts.
Find out more